MBP RQ700
R-evolutionary VFFS Wrappers – Intermittent Doy-Style

PRODUCTIVITY
THE-R-SERIES INCREASES EFFICIENCY TO ITS MAXIMUM LEVEL

EASY TO USE
100% INDUSTRIAL PC: MBP R-SERIES + C-SERIES MULTIHEAD WEIGHERS

R SOFTWARE
THE SMART BREAKTHROUGH IN VERTICAL PACKAGING

SPACE
DRAMATIC REDUCTION OF OPERATING SPACE

PROTEZIONE
VACUUM TECHNOLOGY ZERO INFILTRAZIONI

REMOTE ASSISTANCE
MBP IS WITH YOU, NO MATTER WHERE YOU ARE
MBP RQ700
MBP RQ700 ZIP
MBP RQ700 TWIN
RQ700 is an intermittent motion VFFS machine to produce pillow-bags, square-bottom bags, Steelo-bags and Doy-Style bags.
RQ700 contains all the features of R-Series plus the benefits deriving from the QRM POWER FEEDBACK interchangeable, removable, rotatable sealing unit.
TOP 10 BENEFITS
OBVIOUS RIGHT FROM FIRST START-UP
Sostituisci in 3 minuti l'intero gruppo di saldatura con quello dedicato alla confezione che devi produrre con tutti gli accessori già installati e regolati. Inserisci e visualizza sul monitor la forza esatta di saldatura che necessiti senza alcuna regolazione meccanica.
Produci confezioni esteticamente perfette pillow-bag, Steelo-Bag (flat botton 4 corner seal) e Doy-Style. 6-10 minuti per il cambio formato integrale.
Raddoppia la linea quando vuoi aggiungendo una macchina gemella. È già tutto predisposto. Raddoppia la produttività e la sicurezza operativa.
MBP QRM POWER FEEDBACK
XTRACT – ROTATE – CHANGE
QRM: the new concept of sealing unit interchangeable, removable, rotatable.
To change format from pillow bag or steelo bag to doy-style just pull out the first QRM sealing unit and insert the second one (optional), rotated 90°.
QRM is also equipped with motors to activate clamps, bellows and all necessary devices for each type of packaging. In short, the QRM sealing device can:
Reduce the time to change format.
Improve the quality of the packaging.
Increase the wrapping speed.
Top Performance and Smaller Overall Dimensions
Doy Style R-Series' technology guarantees top performance and smaller overall dimensions.
The TWIN configuration allows double production using one MBP multi-head weigher, even in small places.
RQ700 TWIN occupies 3,2 m2 and features a 700 mm film width.
Production with square bottom and/or Steelo-Bag can reach up to 65+65 packs/min with one outfeed conveyor.
Pillow-bag output can reach up to 120+120 packs/min (16C2DMA TWIN).
3 sided bags output can reach up to 60+60 packs/min with one outfeed conveyor.
Doy-Style output can reach up to 50+50 packs/min with one outfeed conveyor.
The time needed to change the format is halved compared to any continuous machine model.
50% of the production is always guaranteed. If the potential is not exploited to its maximum, it is possible to increase line production so as to compensate for a stopped line.
MBP RQ700 TWIN
RQ700 ECO-FILM: A NEW DIMENSION IN SUSTAINABLE PACKAGING
The RQ700 Eco-Film is designed to use mono-film, or recyclable film laminated with paper, even of high thickness. Depending on the film, the machine can produce up to 120 pillow bags per minute and up to 60 square bottom bags per minute.
Advantages:
Unique transverse sealing unit with high sealing pressure and integrated measurement of the applied force. The sealing force is measured on the left and right side of the sealing jaw allowing perfect balancing. The sealing unit (QRM) can be removed in 3 minutes with a simple trolley supplied.
Innovative film unwinding system with only 6 rolls, with a motorized reel-holder shaft that reduces film stretching, optimizing unwinding control.
The film-turning triangle keeps the film centered to a tenth of a mm in relation to the forming tube, ensuring perfectly symmetrical seals.
The RQ700 Eco-Film produces three-seal bags, but also square bottom and 4-seal bags.
The faces behind the R-Series. Meet the MBP Team
MBP has worked in the packaging industry for over 50 years and has assembled the most talented team of system engineers in the world. MBP is driven to solve difficult customer problems, not just building machines.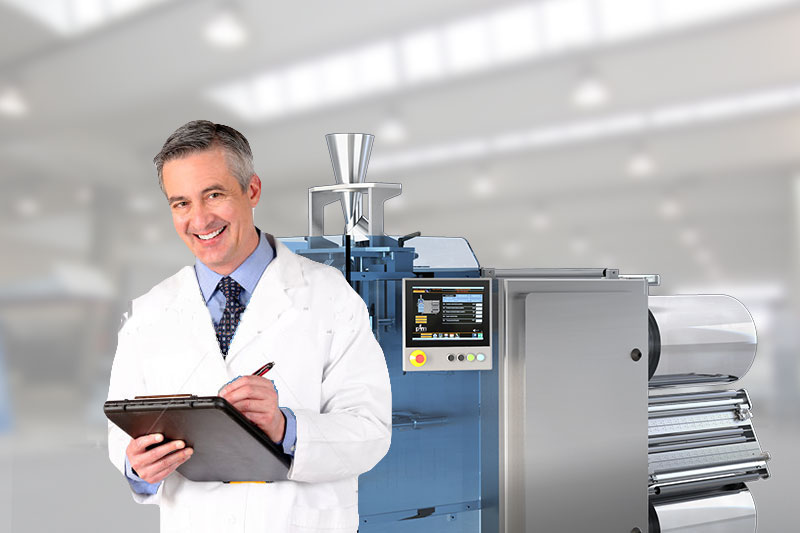 Explore our RQ700 Applications
Ready for your Product Pillow Bag

.
RQ700
W: 70-320mm
L: 60-400mm
Up to 200 bags/min QRM Rotative (cutting pitch up to 150 mm) Gusseted Bags

.
RQ700
W: 70-320mm
D: 60-400mm
Up to 200 bags/min QRM Rotative (cutting pitch up to 150 mm) Block Bottom
Saldatura Centrale
RQ700
W: 90-180mm
D: 50-100mm
L: 100-380mm
Up to 60 bags/min Steelo-Bag
Sided Seal
RQ700
W: 90-180mm
D: 55-120mm
L: 100-350mm
Up to 70 bags/min 3-sided
3-sided Zip
RQ700
W: 90-250mm
L: 60-220mm
Up to 65 bags/min
Feed direction 90° rotated Doy-Style
Doy-Style with Zip
RQ700
W: 90-150mm
L: 70-220mm
Up to 60 bags/min
Feed direction 90° rotated
HOW your packaging technology can really improve my bottom line?
6 infographics that explain HOW the R-Series can solve your problems
We operate in 95 countries worldwide
Register now. We will put you in touch with our local guy within 24 hours. Promise!
Toggle Map
Supporto (R)evoluzionario con un'app
R-Series è l'unica macchina per il confezionamento dotata di applicazione per smartphone dedicata alla teleassistenza e pezzi di ricambio